C4 Center expresses concern over the state of the River of Life (ROL) project which was allocated a whopping RM4.4bn for the redevelopment of 10km of the Klang River in central Kuala Lumpur and the clean-up of its waters and shoreline running 100km upriver. Over the few months, the media has painted an ominous picture of the project which is now ranked as one of the hardest and most expensive urban river restoration projects ever undertaken.
Overview
The project, launched in July 2011, is to transform the Klang River into a vibrant and liveable waterfront with high economic value. It is part of former Prime Minister Najib Razak's overambitious Economic Transformation Programme and a national strategy to elevate Malaysia to a developed nation status by 2020.
There are three major components to the project which aims to transform eight rivers that are located within the Greater Kuala Lumpur/Klang Valley region: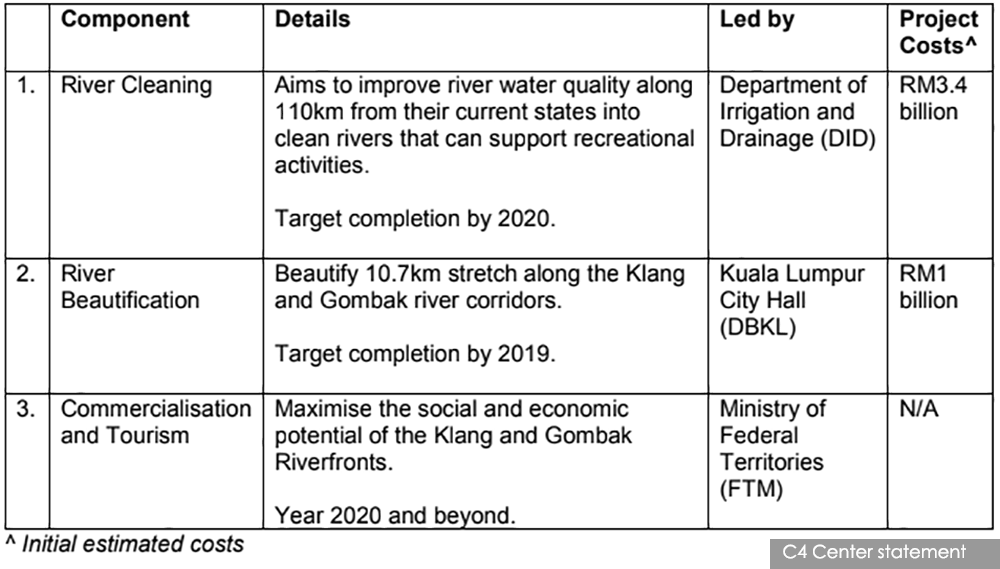 Component 1: River cleaning – what went wrong?
According to the 2015 Auditor-General's Report Series 1, an audit was conducted on the sewerage projects under Component 1. It has revealed amongst others, lack of feasibility studies, procedural missteps, lack of oversight, poor contract management and enforcement, which contributed to cost escalations and delays in execution. These flaws continued to prevail since no corrective and preventive actions were taken to address them, as revealed in the subsequent audit in 2017.
Support the struggle to build a Malaysia based on Justice, Freedom, Solidarity:Tel: 04-658 5251 email: [email protected]
An extract of the first series of the 2017 Auditor-General's Report on the river water quality control projects is tabled below:

The audit conducted on six contracts (worth RM167 million) out of the 14 contracts (worth RM398 million) has revealed amongst others, the following:
as of October 2017, the costs of all six contracts increased by RM15m to RM182m
all six contracts could not meet the completion date and this led to 19 EOT being granted, ranging from 92 days to 944 days
tme-at-large issues regarding the delays of contract certification
inconsistent compliance of effluent river water quality standards
the actual monthly operating cost of water waste treatment plant at Kuala Lumpur wholesale market was significantly material from 493% to 835% compared to the initial estimation by the consultant;
the operation at the Benteng Flood Reservoir Pool had ceased on 29 October 2015 (ie 10 days after the certificate of completion and compliance was issued) and the government had to incur additional unrecoverable costs of RM324,000 to fix the problem
several thefts have incurred on the Benteng site resulting in further losses to the government.
Component 2: River beautification – what went wrong?
The first phase of the river beautification component is to transform the Precinct 7 heritage quarter which covers a 2.2km river stretch from Dataran Merdeka to Dayabumi into a riverfront esplanade. This involves installing weirs in several places.
However, the Star reported on May 2019 that the collapsible weirs costing RM35m at the Dayabumi Complex and Brickfields had been out of commission for months and in fact, one of the weirs failed to take off from the start. During the launch of the first phase in August 2017, the collapsible weirs were described as a stroke of economic genius and now years later, they are eyesores and white elephants.
The Star also reported on June 2019 that a newly constructed weir in Sungai Untut is being demolished for causing a series of flash floods in the neighbourhood since March 2019. This too indicates inadequate or poor project planning as well as procedural missteps.
Meanwhile, Ekovest Bhd's wholly-owned subsidiary, EkoRiver Construction was appointed as the main contractor for three out of five beautification work packages worth about RM489m.
One of the package worth RM99.9m is at Taman Titiwangsa, and the project was supposed to be completed within 19 months from May 2018 to November 2019.
However, a recent sight visit suggests that the contractor had no intention to make it work within the timeframe and the project is far from completion. In spite of its national importance and the impact it would have on the economic viability of the ROL project, there seems be inadequate monitoring and supervision by Kuala Lumpur City Hall.
Component 3: Commercialisation and tourism – what went wrong?
Ekovest, being appointed in 2011 as the project delivery partner (PDP) in this joint venture, was also awarded the project worth RM130m to build a gallery and surrounding facilities at the intersection of the Klang and Gombak rivers.
The then Kuala Lumpur mayor Ahmad Fuad Ismail said: "As for the incentives, after we beautify the whole area and state land has boosted in value, the PDP will get 2% of the land transaction's total value…" This incentive is in addition to the basic fees for the project deliver partner to coordinate the river beautification works. The fees will be a certain percentage of the project cost.
It is noteworthy that Ekovest has obtained the development order in October 2016 for its EkoGateway @KL River City project, which has a gross development value of RM2.6bn. The project includes the construction of 300 units of 1Malaysia Civil Servants Housing (PPA1M).
After the completion of this project, the government will allocate a total of RM130m facilitation fund to Ekovest. In addition to this, Ekovest has received the approvals for the proposed development of EkoPark Place, EkoAvenue, EkoTitiwangsa and EkoQuay, which has a total gross development value approximately RM2.8 billion.
It is not clear how the officials at the FTM cherry-picked Ekovest and other partners but fears are abounding since the transfer of government lands and approval of development orders took place during the tenure of the former federal territories minister Tengku Adnan Tengku Mansor. Tengku Adnan was charged on November 2018 with two counts of receiving a RM3m bribe from property developers.
In February 2019, the MACC questioned 20 DBKL officers over this project. "They were involved in projects pertaining to cleaning and maintaining rivers in Kuala Lumpur. It is believed that they have been paid off by certain contractors," a source told a news portal. To-date, pertinent information on the investigation is not readily available.
Findings and observations
The shortfall in terms of physical progress in different components of the ROL project along with an overall cost escalation is clearly a cause for concerns for taxpayers. It indicates and raises the following observations:
lack of feasibility studies
lack of pertinent financial information and accountability
procedural missteps as well as poor procurement practices and contract management, tracking project progress and enforcement
glaring lack of oversight by the project authorities to ensure compliance with the contract terms, resulting in massive cost overruns
lack of adequate and effective monitoring mechanisms and timely action to deal with breaches and damages
These raise the following questions:
The 2015 and 2017 Auditor-General's Report findings clearly indicate that there are grave and critical areas that had been inadequately or poorly managed over the past nine years, resulting in tardy implementation and cost escalation. What has the Pakatan Harapan government – in particular, the Federal Territory Ministry and Kuala Lumpur City Hall – done to develop remedial changes to this project?
As it becomes reasonably apparent that many work packages are badly behind schedule, some even by six years, were there any:

cancellation or reverse tendering of incompetent contractors and/or project consultants; or
non-performing contractors and/or project consultants punished or blacklisted by Kuala Lumpur City Hall?

Why was Kuala Lumpur City Hall's lackadaisical attitude towards the critical defects of costly non-functional collapsible weirs not detected or vetted by the minstry and is the current federal territory minister aware of this matter?
While the sale of government lands to project delivery partners as well as the awarding of lucrative government contracts to incompetent contractors took place during the tenure of Tengku Adnan, are there any initiatives taken by the current federal territory minister to reassess the land value and to re-examine the agreements and contracts to maximise government revenue?
In order to uphold public accountability and transparency, an ethical and effective public service, good governance and sustainable development, we urge the current Pakatan Harapan government to perform the following:
carry out a comprehensive audit on the entire ROL project
revise the initial plan(s) in relation to its design, requirements, functionality, challenges, etc to ensure that the government gets value for money on this project
carry out a cost-benefit analysis to determine options which would provide the best approach to achieving benefits while maintaining costs to the minimum
encourage collaboration and cross-pollinate ideas to increase the effectiveness and efficiency of this project since it involves too many stakeholders with different interests
In Pakatan Harapan's pledge to tackle entrenched corruption, C4 urges immediate steps for access to information for public feedback, greater scrutiny and oversight where sales of government assets and properties are concerned.
We further assert for Pakatan Harapan to lay down important rules and standards on accountability mechanisms, to assist in detecting fraud and to assert our right to know and the right to greater information over the dealings involving government and sales of government properties.
Cynthia Gabriel is executive director and Lalitha Kunaratnam is senior researcher of C4 Center.
Source: Malaysiakini
The views expressed in Aliran's media statements and the NGO statements we have endorsed reflect Aliran's official stand. Views and opinions expressed in other pieces published here do not necessarily reflect Aliran's official position.
AGENDA RAKYAT - Lima perkara utama
Tegakkan maruah serta kualiti kehidupan rakyat
Galakkan pembangunan saksama, lestari serta tangani krisis alam sekitar
Raikan kerencaman dan keterangkuman
Selamatkan demokrasi dan angkatkan keluhuran undang-undang
Lawan rasuah dan kronisme
Support our work by
making a donation
.
Tap to download the QR code
below and
scan this QR code from Gallery
by using TnG e-wallet or most banking apps: